World Label Awards
05 August, 2019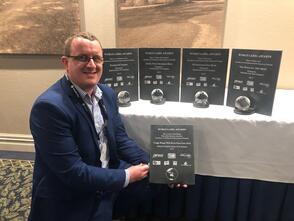 New Zealand Label companies hugely successful on the world stage.
Pictured: Chris Watt (Blue Star Group) receiving the 2017 Awards on behalf of Panprint and Rapid Labels
Part of the World Label Association programme includes the World Label Awards and SALMA has been sending entries in to these since 2005. The gold medal winners from the Pride In Print Awards are reviewed and the appropriate entries sent for judging each year. Unlike the Pride In Print Awards where multiple golds can be awarded, there is only one winner in each category at the World Label Awards (unless it is a very close call and then they will award an Honorable Mention to the runner-up).
From the 27 category winners, the judges then go on to choose 5 Best of the Best Awards, one representing each printing process – Flexographic, Letterpress, Digital, Offset and Combination.
And the Winners are

2017
Rapid Labels for PureSunscreen Pure Shad Flexographic Print
Panprint for True Honey MGO300+ Offset Print
Panprint for Pacific Potion Sauvignon Blanc Offset Wines and Spirits
Rapid Labels for Floating Foil Snapper Combination Printing "BEST OF THE BEST"
Gravure Packaging for Chobani 170 h Gravure
Leading Labels for Pumpkin Seed Oil Letterpress Colour Process "Honourable Mention"
Admark Visual Imaging for Moana Flexographic Colour Process
Rapid Labels for Craggy Range WildRock Pinot Gris Flexographic Wines and Spirits "Honourable Mention"
2018
Gravure Packaging for KiwiFarm NZ Green Kiwifruit Juice Gravure