Label printer scoops Apprentice of the Year title
02 July, 2012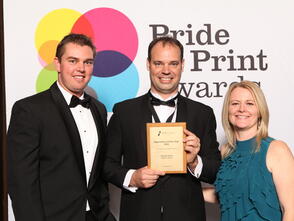 Gareth Hilton, from Rapid Labels in Auckland, is still grinning from ear to ear days after being announced as the 2011 print industry Apprentice of the Year.
Gareth was announced as the winner of the ultimate training award at the NZ Pride In Print Awards in Auckland on Friday 29 June. More than 600 people attended the awards event to celebrate the best of print in New Zealand and the industry's top apprentices.
Gareth was one of five top apprentices from the diverse sectors of digital/prepress, screen printing, reel-fed printing, sheet-fed printing and print finishing. The finalists had attended an interview for the award on 22 June and were nervously awaiting the big announcement.
The Apprentice of the Year Award is generously sponsored by ICON Digital Printing Papers (supplied by BJ Ball Papers).
Upon accepting his award, with a look of shock on his face, Gareth paid tribute to the other award finalists, his family and the Rapid Labels team.
"I feel extremely proud and honoured to be the Apprentice of the Year," Gareth says.
"To win Apprentice of the Year is an amazing personal and professional achievement. It is a fantastic way of recognising the hard work and effort it took, and the best way to repay my managers, work mates, friends and family who supported and encouraged me all the way through.
"I would like to thank the PrintNZ Training team and my work, who have all been very supportive. Especially Alex Straight who has been like a rock for me – he always had time to help. I would also like to thank my wife and all of my family and friends."
ICON spokesperson, Richard Hislop, says: "We are very proud to be associated with the Apprentice Awards. We firmly believe in the development and encouragement of learning and have a proud culture of doing this with our own young people.
"Congratulations to Gareth Hilton and to all of the finalists. Gareth demonstrated excellent technical ability, presented his work (and interviewed) exceptionally well. He understood the industry and challenges, and above all, had a vision for the industry and his future."
PrintNZ Training chief executive, Joan Grace, says all of the finalists were of a high calibre.
"We look forward to watching Gareth and the other award finalists' progress in the industry. Their employers and the industry should be extremely proud."
The Apprentice of the Year finalists hailed from companies all over New Zealand. The finalists were: Gareth Hilton of Rapid Labels in Auckland, Nicky Hambrook of Sycamore Print in Invercargill, Derek Woodgate of Admark Visual Imaging in Hamilton, Geoff Stanaway of McCollams in Auckland and James Zuo of red-i (CCL Communications Group) in Auckland.
The finalists each received an award and prize at the Apprentice Awards / PrintNZ Conference Dinner on 28 June.
Gareth started his career in the print industry as a storeman before being offered the role of printer's assistant. He has worked in the print industry in New Zealand and overseas ever since.
Asked what he enjoys most about his job Gareth says: "I enjoy the effects of putting ink on paper and seeing images come to life.
"My goal is to gain a management position. I am next in line for the Print Management course. Ultimately I would like to own and run my own printing business."
Alex Straight, production manager at Rapid Labels, says Gareth started at Rapid Labels as a print assistant, which he "excelled" at.
"I always had Gareth earmarked for more than this but it was a matter of time until the next uptake of apprenticeships could begin. As soon as this happened Gareth jumped at the opportunity to become a qualified tradesman.
"Gareth's dedication to his practical work and his one hundred percent outstanding pass rate in his correspondence (assignments) is something I am extremely proud of and I doubt that I will ever see again. He has continually pushed himself to succeed since day one."
Anne-Marie Sutton, general manager, says: "We are very excited and very proud of Gareth. Gareth is very hard working and enthusiastic – he is certainly the type of employee we should be holding up as an example within the print industry.
"As a responsible employer it is a great thing to be able to provide our staff with the opportunity to complete formal training (apprenticeships) and equip them with qualifications and skills for life."
Rapid Labels also won four gold medals at the Pride In Print Awards for their stunning array of label work. Gareth Hilton printed one of the award-winning entries.
Rapid Labels is a label manufacturer with 73 staff operating from a purpose-designed facility in Albany. They produce labels for several specific markets including wine, food, beverage, thermal and pharmaceutical for clients the length of New Zealand.
Photo caption: Print Industry Apprentice of the Year, Gareth Hilton, of Rapid Labels (middle), is pictured with Richard Hislop from ICON Digital Printing Papers (Award sponsor) and Anne-Marie Sutton, general manager of Rapid Labels.
Apprentice of the Year Award sponsor: